LSS are specialists in manufacturing Barcode labels.
We use many methods of printing. So allowing us to manufacture labels with all types of barcodes including QR codes which are becoming increasingly popular, as they can be easily read by mobile phones.
Printing of barcodes with corporate colours is possible apart from within our single colour range.
Most Common Types of Barcode Labels
Code 39 is probably the most common barcode type.
Used for various labels, such as inventory asset labels, name badges, and industrial applications.
Another name for Code 39 is 3 of 9 Barcode.
The symbols used for the Code 39 character set consists of barcode symbols representing numbers 0-9, upper-case and lower-case letters A-Z. Also the space character and the following symbols: – . $ / + %.
Code 128 An alphanumeric barcode which is an industry standard.
The Code 128 barcode is a high-density linear symbology which encodes text, numbers, numerous functions and the entire 128 ASCII character set. (from ASCII 0 to ASCII 128)
Commonly used for several implementations. Including shipping and packaging. ISBT-128, GS1-128, UCC-128, EAN-128 and USS Code 128 are other titles for Code 128
Code 128 is higher in data density than Code 39.. Therefore, we recommend that you label very small items using a Code 128 barcode.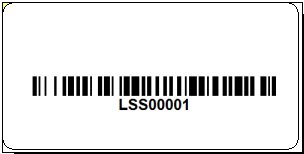 EAN-8 A barcode used by the retail industry when space is limited.
Since the 1970's Global Trade Item Numbers (GTIN) have been encoded using EAN-8 barcodes. Uniquely identifying a product for retail checkout or tracking purposes. UPC, UCC, EAN, JAN, GTIN-8, GTIN-12 and GTIN-13, ISBN and Bookland barcodes are all created using the same symbology type. Commonly known as the UPC/EAN barcode.
EAN-13 Most common barcode within the retail sector.
EAN-13 barcode is a numeric, continuous and fixed-length code. Includes a thirteenth digit as a check character, calculated using the Modulo 10 algorithm.
EAN-13 is used worldwide above all for marking retail goods.
UPC-A A code for point of sale in retail stores.
UPC stands for Universal Product Code. Above all stores widely use for UPC for tracking trade items.
UPC barcode consists of 12 numeric digits, that are uniquely assigned to each trade item.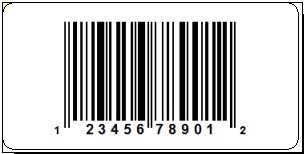 QR Code
A very common barcode because a mobile phone can read them.
QR code is the trademark for a type of matrix barcode.
Designed in 1994 and first of all, used by the automotive industry in Japan.
The QR barcode is a machine-readable optical label. Containing within the barcode information about the item.
Most commonly containing website addresses.
Retail Barcode Labels
Launching a new product? Or require a barcode for an existing one? You don't already have a unique retail barcode number, therefore, you will need to contact an organisation called www.gs1.org. They are an international organisation and require a small fee for their service.
Finally, we can manufacture labels with any form of barcode. So if you cannot see what you are looking for, please contact us to discuss your requirements.