We manufacture high quality Security Tags
Our Security Tags are supplied  in the form of Secure IdTags to Corporates both large and small across the UK.
Security tags can be fully customised to your own requirements and can be printed in full colour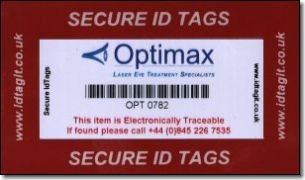 Available in 760 micron PVC
Permanent fixing with acrylic security adhesive
Customised mirror writing to make a tattoo
Protective cover
Individual bar coding
Traceable back to you
Registration on our secure offline database for life if required
NO YEARLY FEES
Can be customised with your company logo and details therefore adding colour and identification to your property.
Available in quantities starting from 10
ITEMS SUITABLE for PROPERTY MARKING with Security Tags
Laptops & Desktops
Printers & Copiers
Servers
Fax Machines
Tools
Machines
Sports Equipment
What the Police Say
The police forces through out the UK, strongly recommend the marking and securing of all equipment, no matter how large or small.
The aim is to make property less attractive to thieves. Consequently marking your computer equipment makes it harder for the thief to sell on. Making it easier for the police to trace the rightful owner and as a result secure a conviction.
Securing your equipment will stop the opportunist theft who will consequently go on to an easier target.
So don't wait until the horse has bolted, mark and secure your equipment now before it goes missing!!
Contact one of our team of experienced advisors for more information on how you can protect your property from theft or loss.
Due to our latest tag printing technology, we will produce a small run of 10 customised secure IdTags for you, for £30 + VAT. This is just £3 each and above all includes all you need to secure your personalised IdTags to your Laptop, PC's, printers etc. Another benefit is a free option to register on our National Security Database for the life of the item.
Ordering is simple, firstly send us your company logo in a .jpg or .bmp format or by post, along with your company name that you wish to have on your IdTags. Tell us how many you require and certainly leave the rest to us.
Purchase online at our shop
How to Prevent Laptop Theft – and What to Do When it Happens