At LSS we supply 2 types of Security Labels that show when a label has been tampered with. This offers protection against theft and misuse of  warranty. Described in detail below are the Tamper-evident 'VOID' and Tamper-proof labels:
Tamper-evident 'VOID' Security Labels
When removing the Tamper-evident 'VOID' label, the word VOID appears repeatedly on both the surface of product and the label. This makes the label impossible to re-use or place back in its original position as it will show that it has been tampered with.
This VOID label is ideal in many applications. It is great for warranty protection, i.e. for sealing item cases as this would disqualify a warranty once opened.
Over-laminating the Tamper-evident 'VOID' label gives  added protection against chemicals and outside use.
Tamper-proof Destructable Labels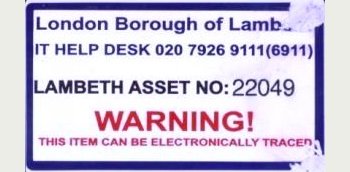 Removing Tamper-proof labels in one piece is not possible.
When removing they will break into tiny pieces as they are manufactured from very thin vinyl.
These particular labels are very popular with many schools.
As with most labels supplied they can have logos, barcodes and human readable sequential numbering.
The label has a white background however blocking to any colour is possible.
Security Labels Market Size, Increasing Trend Diversity, Analysis, Future Scope Analysis Featuing Industry Top Key players By 2026
What the police say!
The police forces through out the UK, strongly recommend the marking and securing of all equipment, no matter how large or small.
The aim is to make property less attractive to thieves. Marking your computer equipment makes it harder for the thief to sell on but makes it easier for the police to trace the rightful owner and secure a conviction.
Securing your equipment visually will stop the opportunist theft who will go on to an easier target.
Don't wait until the horse has bolted, mark and secure your equipment now before it goes missing!!
Contact one of our team of experienced advisors for more information on how you can protect your property from theft or loss.